Escape from Mr. Lemoncello's Library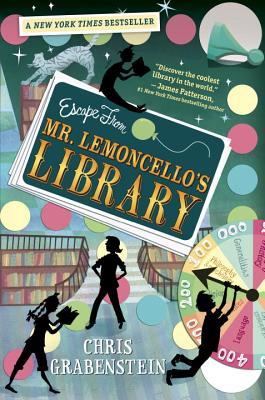 Genre: Juvenile Fiction
Synopsis:
Kyle Keeley is the class clown, popular with most kids, (if not the teachers), and an ardent fan of all games: board games, word games, and particularly video games. His hero, Luigi Lemoncello, the most notorious and creative gamemaker in the world, just so happens to be the genius behind the building of the new town library.
Lucky Kyle wins a coveted spot to be one of the first 12 kids in the library for an overnight of fun, food, and lots and lots of games. But when morning comes, the doors remain locked. Kyle and the other winners must solve every clue and every secret puzzle to find the hidden escape route. And the stakes are very high.
In this cross between
Charlie and the Chocolate Factory
and
A Night in the Museum,
Agatha Award winner Chris Grabenstein uses rib-tickling humor to create the perfect tale for his quirky characters. Old fans and new readers will become enthralled with the crafty twists and turns of this ultimate library experience.
from GoodReads
Review: This book was enjoyable for readers of various ages. My children enjoyed this book as much as I did. The story is about a game inside a library where the goal is to find a secret exit. There are many kids in the book who show what good teamwork is and how you can achieve more with cooperation. The story is full of various puzzles that are fun trying to figure out as the characters are trying to figure them out. The kids who are locked in the library sure know more about the library system and authors than most adults! This book is fast paced and keeps the reader in suspense throughout the book. Definitely a book that kids will love!
Rating: 4 stars