I Shall Be Near to You
Erin Lindsay McCabe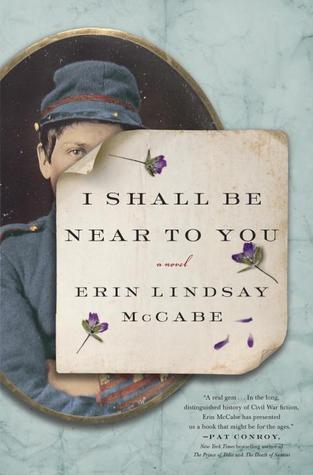 Genre:
Historical Fiction
Summary
(from Goodreads):
An extraordinary novel about a strong-willed woman who disguises herself as a man in order to fight beside her husband in the Civil War, inspired by a real female soldier's letters home
Rosetta doesn't want her new husband Jeremiah to enlist, but he joins up, hoping to make enough money that they'll be able to afford their own farm someday. Though she's always worked by her father's side as the son he never had, now that Rosetta is a wife she's told her place is inside with the other women. But Rosetta decides her true place is with Jeremiah, no matter what that means, and to be with him she cuts off her hair, hems an old pair of his pants, and signs up as a Union soldier.

Rosetta drills with the men, prepares herself for battle, and faces the tension as her husband comes to grips with having a fighting wife. Fearing discovery of her secret, Rosetta's strong will clashes with Jeremiah's as their marriage is tested by war. Inspired by over two hundred and fifty documented accounts of the women who fought in the Civil War while disguised as men, I Shall Be Near To You is the intimate story, in Rosetta's powerful and gorgeous voice, of the drama of marriage, one woman's amazing exploits, and the tender love story that can unfold when two partners face life's challenges side by side.
Review:
This story was hard to read at times, with descriptions of battles and battlefields, injuries, hospitals and death, but it was, after all, a story about the Civil War. In fact, it brought the war to life in a way that I have never experienced before, and I enjoyed it more than I expected. Rosetta was an extremely stubborn and independent woman for her time with a voice that reflected the idioms and dialect of a farm girl at that time. Having said that, I did find the constant usage of the word "ain't" a little annoying. The author's note at the end of the book states that she based her story loosely on letters and books about real women who had fought in the Civil War just like Rosetta, and I was fascinated to find out that over 200 women had actually done so. This well-written novel captured a unique period of history.
Rating:
4 stars