Little Beach Street Bakery
Jenny Colgan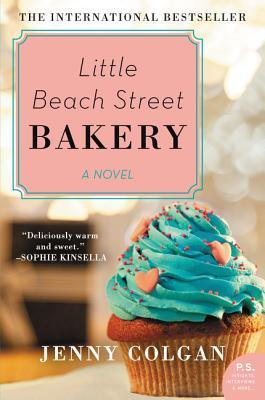 Genre:
Chick-Lit Fiction
Summary
(from Goodreads):
In the bestselling tradition of Jojo Moyes and Jennifer Weiner, Jenny Colgan's moving, funny, and unforgettable novel tells the story of a heartbroken young woman who turns a new page in her life . . . by becoming a baker in the town of Cornwall

A quiet seaside resort. An abandoned shop. A small flat. This is what awaits Polly Waterford when she arrives at the Cornish coast, fleeing a ruined relationship.

To keep her mind off her troubles, Polly throws herself into her favorite hobby: making bread. But her relaxing weekend diversion quickly develops into a passion. As she pours her emotions into kneading and pounding the dough, each loaf becomes better than the last. Soon, Polly is working her magic with nuts and seeds, chocolate and sugar, and the local honey--courtesy of a handsome beekeeper. Packed with laughter and emotion, Little Beach Street Bakery is the story of how one woman discovered bright new life where she least expected--a heartwarming, mouthwatering modern-day Chocolat that has already become a massive international bestseller.

Includes 7 Recipes!
Review:
This book took me a really long time to read, given that it's chick-lit, which I normally fly through. Once again, I'll say that I think I'm growing out of that genre. Perhaps I should try to remember that when I'm at the library looking for books!
I just didn't really care about Polly, who struck me as a wishy washy character who (with no real talent or effort on her part) luckily fell into the perfect career. Her relationships with her friends developed too quickly, her romances had no depth, no history, no emotional connection. The descriptions of her little town in Cornwall, and her connection to the rescued puffin were my favorite parts of the book.
Rating:
2 stars