The Readers of Broken Wheel Recommend
Katarina Bivald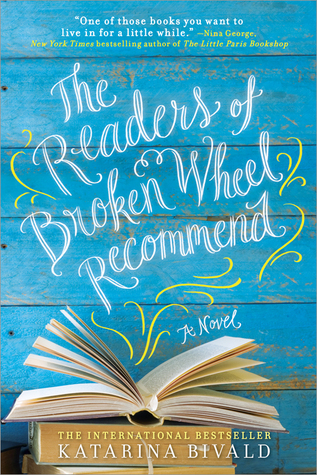 Genre:
Fiction
Summary
(from Goodreads):
Once you let a book into your life, the most unexpected things can happen...

Broken Wheel, Iowa, has never seen anyone like Sara, who traveled all the way from Sweden just to meet her pen pal, Amy. When she arrives, however, she finds that Amy's funeral has just ended. Luckily, the townspeople are happy to look after their bewildered tourist—even if they don't understand her peculiar need for books. Marooned in a farm town that's almost beyond repair, Sara starts a bookstore in honor of her friend's memory.

All she wants is to share the books she loves with the citizens of Broken Wheel and to convince them that reading is one of the great joys of life. But she makes some unconventional choices that could force a lot of secrets into the open and change things for everyone in town. Reminiscent of The Guernsey Literary and Potato Peel Pie Society, this is a warm, witty book about friendship, stories, and love.
Review:
If I think about this book objectively, I would probably give it 3.5 stars. But this book contained so many themes that I'm a sucker for - socially awkward book loving girl moves to a town full of nosy but kindly strangers and opens a bookstore while working to bring the townspeople together to save their town - that I can't help but give it a higher rating. There were some flaws in my mind - I didn't think the romance added anything to the book, the initial premise seemed improbable, and at times it was overly cheesy - but it was such a feel-good book-lovers book that I couldn't help loving it.
Rating:
4.5 stars