The Greatest Star on Earth
Kate Klise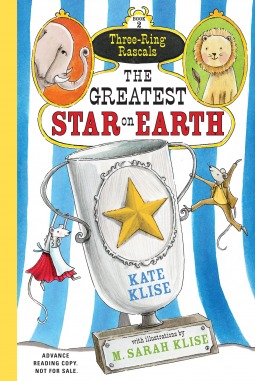 Genre:
Chapter Book
Summary
(from Goodreads):
The rascals from the world s friendliest family circus are back in the second installment of this smafunderful * fully illustrated series.

Everyone knows Sir Sidney's Circus is the best in the world. But who's the "star" of the show? "The Circus Times" is having a contest to find out. Just thinking about it gives Sir Sidney a worrywart, and it's quickly clear why. Soon after he goes off to rest, the performers start thinking too much about winning the trophy and not enough about putting on a good show.

Meanwhile, it looks as if ringmaster-in-training Barnabas Brambles might need some help managing the crew, so Bert and Gert, the sly brother-and-sister mice who travel with the show, set out to write a book to teach him how it's done.
Does Bert and Gert s plan work? And who" is" the star of the circus? All will be revealed in "The Greatest Star on Earth."
Review:
I like this book because Sir Sidney, the owner of the circus, is very kind, and I like how all the animals in the circus are kind and funny. It is especially funny when Leo the lion thinks he should sing high because he might win the trophy, and Tiger the cat thinks she should sing low so she could win the trophy, and it's very funny because if I could actually hear them singing they would sound really really hilarious. This book has a lot of pictures, at least one on every page, and the pictures make the book extra fun so that kids have a good image of what is happening. There are other books in the series, called
The Show Must Go On
,
The Circus Goes to Sea
, and
Pop Goes the Circus
. I like all those books, too.
Rating:
5 stars