Cock-a-Doodle Dance!
by Christine Tricario
Illustrated by Rich Deas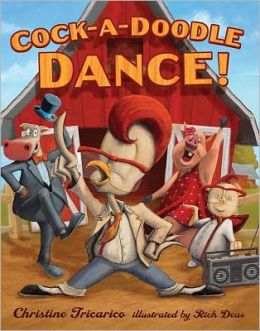 Genre: Picture Book
Synopsis: In rootin', tootin' Texas is a gloomy, grouchy farm where animals work overtime and life has lost its charm. But when Rooster catches a jitterbug, all the animals catch boogie fever and can't stop dancing! Pigs polka. Sheet shimmy and swing. Chickens cha-cha. What will Rooster cock-a-doodle do to stop the barnyard bash?
Review: This story is so fun and so are the illustrations! All the animals on the farm catch dancing fever and do that instead of doing the work that they are supposed to do like producing eggs and milk. The story is written in rhyme and is full of dance vocabulary. The back inside cover of the book actually explains all the different dances that they use in the book. My kids really enjoyed listening to this book although the vocabulary is more advanced than my children's vocabulary so I had to stop often and explain words (because I was asked what the words meant). I even enjoyed reading this book and was entertained by what else the author and illustrator would come up with!
Rating: 5 stars