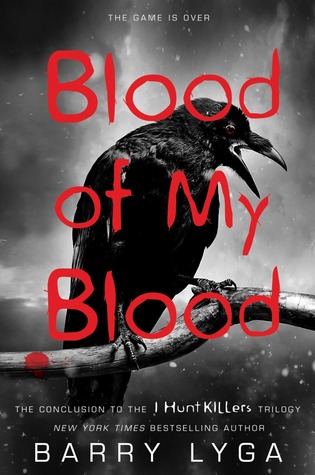 Genre:
Young Adult Fiction, Mystery
Synopsis:
Jazz Dent has never been closer to catching his father.
Jazz has been shot and left to die in New York. His girlfriend, Connie, is in the clutches of Jazz's monstrous father, Billy-the world's most notorious serial killer. And his best friend, Howie, is bleeding to death on the floor of Jazz's own home.
Somehow, these three must rise above the horros and find a way to come together in pursuit of Billy.
But then Jazz crosses a line he's never crossed before, and soon the entire country is wondering: "Like father, lie son? Who is the true monster?"
From New York City to the small town of Lobo's Nod, the chase is on, and this time, Jazz is the hunted, not the hunter-while Billy Dent lurks in the shadows.
And beyond Billy? Something much, much worse. Prepare to meet...the Crow King.
from the book jacket
Review:
It is rare when the third book in a trilogy is the best one but I have to say that this was by far my favorite book of the trilogy! This book was less about the gruesome ways to kill people (as was my chief complaint with the second book) and more about Jazz hunting down serial killers and trying to solve the mystery of his family. It answered all the questions that came up in the first two books and really wrapped the series up nicely. This book also tugged at your emotions as you learned more about Jazz's family. It's hard to say this but I did enjoy Billy Dent's (Jazz's serial killer father) twisted, dark sense of humor (don't analyze a deeper meaning of that sentence). I love how Lyga developed all the supporting characters-Howie, Connie, G. William, etc and gave them big personalities. But they don't overshadow Jazz and Billy. I guessed what the twist was at the end of the book but that didn't make the book any less enjoyable for me. The whole series was captivating and one I would recommend to people who don't mind reading some gory details and who like crime books.
Rating:
5 stars