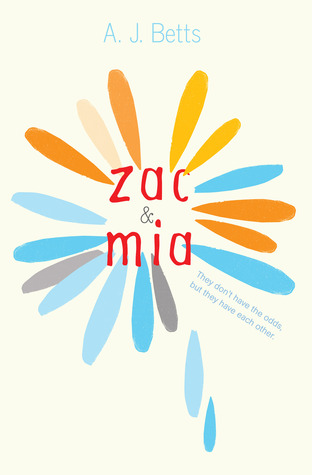 Genre: Young Adult Fiction
Synopsis: "When I was little I believed in Jesus and Santa, spontaneous combustion, and the Loch Ness monster. Now I believe in science, statistics, and antibiotics." So says seventeen-year-old Zac Meier during a long, grueling leukemia treatment in Perth, Australia. A loud blast of Lady Gaga alerts him to the presence of Mia, the angry, not-at-all-stoic cancer patient in the room next door. Once released, the two near-strangers can't forget each other, even as they desperately try to resume normal lives. The story of their mysterious connection drives this unflinchingly tough, tender novel told in two voices.
Review: I'm having a hard time pin pointing what it was about this book that made it that I couldn't rate it higher. This book started out well and I really enjoyed Zac's perspective. He was an optimistic, caring and selfless boy in spite of him having leukemia. Reading from Zac's perspective was what made me continue to read this book. Mia, on the other hand, was not such a nice character. She was just grumpy and unappreciative. I can't begin to put myself in her shoes as I can't imagine what my emotions would be like if I had cancer at her age. However, she just was too pessimistic to make me enjoy reading the chapters from her point of view. There was a bond with Zac and Mia and it seemed to come from nowhere. In the cancer treatment center Zac tries hard to befriend Mia but she wants to part of it. But then all of a sudden Mia can't stop thinking about Zac. There needed to be more development of their characters and their friendship especially considering what happens later in the book.
Rating: 3 stars