I Was Here
Gayle Forman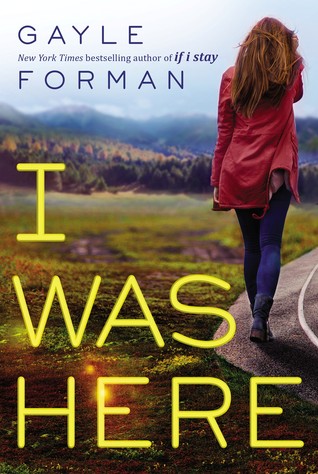 Genre:
Young Adult Fiction
Summary
(from Goodreads):
Cody and Meg were inseparable.
Two peas in a pod.
Until . . . they weren't anymore.

When her best friend Meg drinks a bottle of industrial-strength cleaner alone in a motel room, Cody is understandably shocked and devastated. She and Meg shared everything—so how was there no warning? But when Cody travels to Meg's college town to pack up the belongings left behind, she discovers that there's a lot that Meg never told her. About her old roommates, the sort of people Cody never would have met in her dead-end small town in Washington. About Ben McAllister, the boy with a guitar and a sneer, who broke Meg's heart. And about an encrypted computer file that Cody can't open—until she does, and suddenly everything Cody thought she knew about her best friend's death gets thrown into question.

I Was Here is Gayle Forman at her finest, a taut, emotional, and ultimately redemptive story about redefining the meaning of family and finding a way to move forward even in the face of unspeakable loss.
Review:
I definitely enjoy Forman's writing style, even when I find some of her subject matter disagreeable. This was another book that I couldn't put down, and I really cared about the main character even though she was nothing at all like me. When Cody's best friend Meg commits suicide, Cody feels guilty for not being able to stop her friend, even though she had no idea that Meg suffered from depression. The thought that Forman put into Cody's emotions regarding the death of her best friend and her own feelings of guilt made Cody seem so real; I cried several times imagining the pain that Cody was feeling. The problem I had with this book was the romantic relationship between Cody and Ben, a stereotypical bad boy who had slept with her best friend and then ditched her. In my mind, a good friend wouldn't start a romantic relationship with her best friend's ex for any reason at all, and especially if the ex was a total jerk. While I understand that young adult books seem to need a romantic premise, I think this would have been a stronger book if the romance had been nonexistent, and it had focused solely on the grief, guilt and suicide.
Rating:
4 stars