The Magician's Lie
Greer McAllister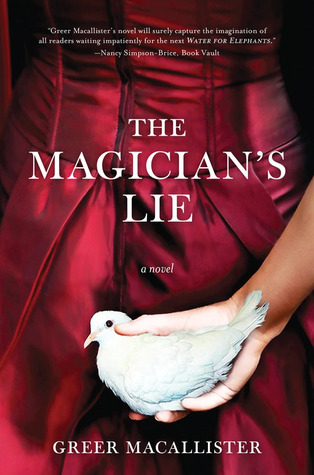 Genre:
Historical Fiction
Summary
(from Goodreads):
Water for Elephants meets The Night Circus in The Magician's Lie, a debut novel in which the country's most notorious female illusionist stands accused of her husband's murder --and she has only one night to convince a small-town policeman of her innocence.

The Amazing Arden is the most famous female illusionist of her day, renowned for her notorious trick of sawing a man in half on stage. One night in Waterloo, Iowa, with young policeman Virgil Holt watching from the audience, she swaps her trademark saw for a fire ax. Is it a new version of the illusion, or an all-too-real murder? When Arden's husband is found lifeless beneath the stage later that night, the answer seems clear.

But when Virgil happens upon the fleeing magician and takes her into custody, she has a very different story to tell. Even handcuffed and alone, Arden is far from powerless—and what she reveals is as unbelievable as it is spellbinding. Over the course of one eerie night, Virgil must decide whether to turn Arden in or set her free… and it will take all he has to see through the smoke and mirrors.
Review:
Comparing this book to
The Night Circus
isn't fair; it sets the reader up for disappointment. Although this book is about a magician, it doesn't have the same spellbinding magical quality of
The Night Circus
, and it certainly isn't as novel and clever. So please don't go into this book expecting that. Comparisons aside, though....
I thoroughly enjoyed reading this book about a female illusionist at the turn of the 20th century. The book is less about the onstage magic in Arden's life, and more about her unusual adolescence and her adult relationships. The summary doesn't indicate this, but most of the novel is spent on Arden's retelling of her past, with flash-forwards to the present day after she has been captured by Virgil. I found myself rushing through the present day parts so that I could get back to her fascinating past. I haven't read many stories set in this time period, and haven't read
any
about women on the entertainment circuit, so I appreciated this glimpse into a unique part of American history.
Rating:
4 stars