All the Bright Places
Jennifer Niven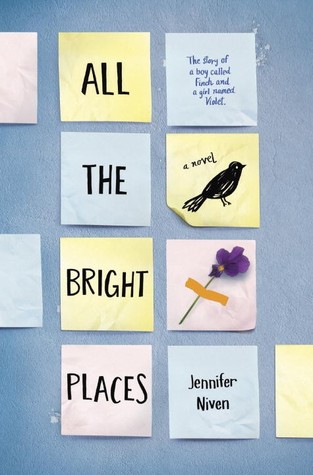 Genre:
Young Adult
Summary
(from Goodreads):
The Fault in Our Stars meets Eleanor and Park in this exhilarating and heart-wrenching love story about a girl who learns to live from a boy who intends to die.
Soon to be a major motion picture starring Elle Fanning!

Theodore Finch is fascinated by death, and he constantly thinks of ways he might kill himself. But each time, something good, no matter how small, stops him.

Violet Markey lives for the future, counting the days until graduation, when she can escape her Indiana town and her aching grief in the wake of her sister's recent death.

When Finch and Violet meet on the ledge of the bell tower at school, it's unclear who saves whom. And when they pair up on a project to discover the "natural wonders" of their state, both Finch and Violet make more important discoveries: It's only with Violet that Finch can be himself—a weird, funny, live-out-loud guy who's not such a freak after all. And it's only with Finch that Violet can forget to count away the days and start living them. But as Violet's world grows, Finch's begins to shrink.

This is an intense, gripping novel perfect for fans of Jay Asher, Rainbow Rowell, John Green, Gayle Forman, and Jenny Downham from a talented new voice in YA, Jennifer Niven.
Review:
Oh, what a beautifully tragic book! I loved watching Violet and Finch become friends, I loved seeing Violet blossom because of their friendship, and I especially loved that the two friends explored little known parts of Indiana together as part of a really cool class project. It made me want to take a trip to Indiana just to explore interesting places off the beaten path. In fact, what a good lesson that is for anyone - take the time to discover quirky little places in your own state and celebrate the joy that comes from experiencing small wonders.
On the other hand, this book delves into teen depression and suicide. Niven captures Finch's depths of emotion so realistically that you feel like you are right there with Finch, soaring through his joyous times with Violet and then plummeting into the dark abyss of his tiny little closet. I was desperately hoping that the ending would be different, but I have to admit that it was probably perfect for the book.
Rating:
5 stars