The Sea of Tranquility
Katja Millay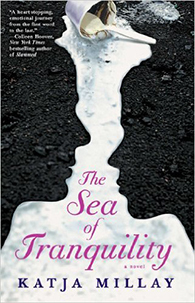 Genre:
Young Adult Fiction
Summary
(from Goodreads):
I live in a world without magic or miracles. A place where there are no clairvoyants or shapeshifters, no angels or superhuman boys to save you. A place where people die and music disintegrates and things suck. I am pressed so hard against the earth by the weight of reality that some days I wonder how I am still able to lift my feet to walk.

Former piano prodigy Nastya Kashnikov wants two things: to get through high school without anyone learning about her past and to make the boy who took everything from her—her identity, her spirit, her will to live—pay.

Josh Bennett's story is no secret: every person he loves has been taken from his life until, at seventeen years old, there is no one left. Now all he wants is be left alone and people allow it because when your name is synonymous with death, everyone tends to give you your space.

Everyone except Nastya, the mysterious new girl at school who starts showing up and won't go away until she's insinuated herself into every aspect of his life. But the more he gets to know her, the more of an enigma she becomes. As their relationship intensifies and the unanswered questions begin to pile up, he starts to wonder if he will ever learn the secrets she's been hiding—or if he even wants to.

The Sea of Tranquility is a rich, intense, and brilliantly imagined story about a lonely boy, an emotionally fragile girl, and the miracle of second chances.
Review:
I am conflicted about this book; on the one hand, it's a deeply emotional story about a non-speaking goth chick who has experienced a severe trauma and the orphaned young man who saves her, but on the other hand, the girl is purposefully mute, her parents are completely unrealistically out of the picture, the boy is sleeping with a college woman, the aunt is an incompetent guardian, and every single other high school student in the book is absolutely horrible in some way. So it's pretty clear that I'm reading this book with the perspective of an adult, isn't it? I wonder how I would have liked this book in high school? Well, I probably would have been so taken aback by the rampant sexuality, the uncomfortable sex scene, the attempted rape, and the idea of having a fuck buddy that I would have stopped reading before I got to the end.
While I was reading the book, these things didn't bother me much because I was engrossed in the tragic circumstances between both of the main characters, and I was hoping I would see Nastya learn to heal in time for a happy ending. The author has a gift for capturing conversation, and while the subject matter was often dark, the book read quickly.
Rating:
3.5 stars