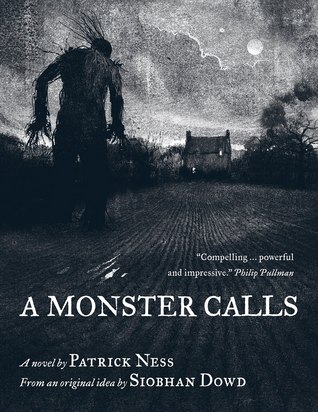 Genre: Young Adult Fiction
Synopsis: The monster showed up after midnight. As they do. But it isn't the monster Conor's been expecting, the one from the nightmare he's had nearly every night since his mother started her treatments, the one with the darkness and the wind and the screaming...
This monster is something different, something ancient, something wild. And it wants the truth.
from the back of the book
Review: To be honest I didn't want to read this book. I saw it on the shelf of Abe Lincoln award winners (Illinois's award for young adult books) and I put it back. The description of the book and the darkness just didn't draw me in, in fact it did the opposite. Then a librarian told me I HAD to read this book. It's been sitting in my house for a while and I tried picking it up once or twice but the monster just threw me off. I finally buckled down and picked it up again and then had a really hard time putting it down once I got farther into the story.
This book uses a monster and darkness to portray Conor's grief. Throughout the book the monster visits to try to teach Conor to deal with his grief. This book uses fantasy to describe the feelings and emotions that a child goes through as his mother is sick. At first I wasn't sure how the stories that the monster told related to Conor nor how they were connected but the end tied everything together and then you could see how well crafted this story was. I was in tears several times while reading, tears that were hard to stop because I felt Conor's anguish and I felt for him. My heart broke for him. No child should have to go through the grief that he did. I wanted to go into the book, hug Conor, and make everything all right.
It's hard for me to figure out more to say about this book because it was so dark and painful. Normally I say things are beautifully written when I really like a book and have an emotional connection to it but there was nothing beautiful about this book due to the subject matter. This book is deep, dark, ugly and full of emotion. I felt like I was in the trenches with grief. Patrick Ness clearly has a way with storytelling. As an adult reader I'm not sure that the illustrations helped the story along but I could see how a younger audience would find them appealing.
So why not a 5 star rating? Because I can't say I loved the book. I really liked it but it is hard to love something that was so emotionally raw. Am I trying to convince you not to read the book? Not at all. In fact I would recommend reading this book. Just be prepared for tears.
Rating: 4.5 stars