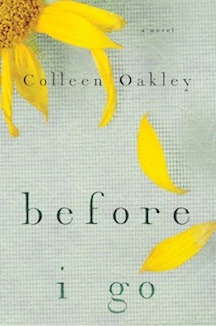 Genre: Women's fiction
Synopsis: At age twenty-seven, Daisy Richmond is sure there's time: time to spend with her husband, Jack-a brilliant young veterinarian-in-training-when he finally graduates from his grueling dual degree program. Time to complete the endless to-do list for their fixer-upper. Time to settle on a topic for her Master's thesis. But that was before the Lots of Cancer. Now, at twenty-seven, Daisy's not sure of anything except that she's dying. The cancer she beat three years ago is back-and this time it's an aggressive stage-IV diagnosis. A "six-months-to-live" diagnosis. But in her whirlwind of medical decisions and raw emotions, Daisy finds her greatest fear isn't for herself, but for her husband: how will Jack-charmingly distracted and helpless with all things domestic-manage when she's gone? In the time she has left, Daisy realizes there's only one thing she can do: find a new wife for Jack-someone who can take care of him when she won't be able to anymore.
With the help of her best friend, Kayleigh, Daisy secretly scouts local parks, coffee shops, and dating web sites looking for Jack's perfect match. But the further she gets on her quest, the more she questions the sanity of her plan. Could Jack really love another woman the way he loves her? And more importantly-does she really want him to?
Review: Oh, my. I just finished reading this book and I am trying to recover from the emotional journey that this book took me on. When the book first started out it seemed like it was going to be a chick lit book about a woman dying of cancer which seemed like a strange theme for a chick lit book. There was some humor throughout that one might think would be disrespectful to the seriousness of the topic but it fit so well in the book. The book is told from the point of view of Daisy who is diagnosed with terminal cancer so we get to be a part of her emotions and she had some quirky aspects to her. This book brought me to tears quite often throughout the story and I really cried quite a bit at the end. I had a hard time putting this book down and I read it in 24 hours. Normally I don't like swear words in books (or movies) but Kayleigh's swearing didn't bother me but I did want to mention that there are curse words in case you are sensitive to that.

Rating: 4.5 stars