Lost & Found
Brooke Davis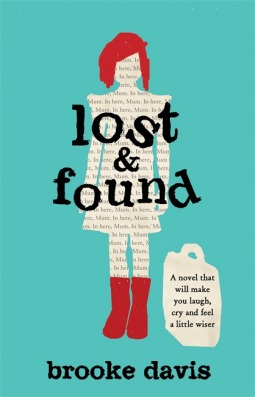 Genre:
Fiction
Summary
(from Goodreads):
Millie Bird is a seven-year-old girl who always wears red wellington boots to match her red, curly hair. But one day, Millie's mum leaves her alone beneath the Ginormous Women's underwear rack in a department store, and doesn't come back.

Agatha Pantha is an eighty-two-year-old woman who hasn't left her home since her husband died. Instead, she fills the silence by yelling at passers-by, watching loud static on TV, and maintaining a strict daily schedule. Until the day Agatha spies a little girl across the street.

Karl the Touch Typist is eighty-seven years old and once typed love letters with his fingers on to his wife's skin. He sits in a nursing home, knowing that somehow he must find a way for life to begin again. In a moment of clarity and joy, he escapes.

Together, Millie, Agatha and Karl set out to find Millie's mum. Along the way, they will discover that the young can be wise, that old age is not the same as death, and that breaking the rules once in a while might just be the key to a happy life.
Review:
I seem to be on a trend reading books that I would describe as quirky, and this is another that fits the bill. It reminded me in some ways of Kent Haruf's
Plainsong
, simply written, about two old people who befriend a child in her time of need. But it was actually quite different because the two old people are completely fun and a little bit crazy, and the child is actually a precocious young girl who is trying to deal with immense loss in her life. There were some parts that were completely unrealistic, and I don't care for the way the dialogue was written (not in quotes), but overall I found it to be a very enjoyable read.
Rating:
4.5 stars