Written in my Own Heart's Blood
Diana Gabaldon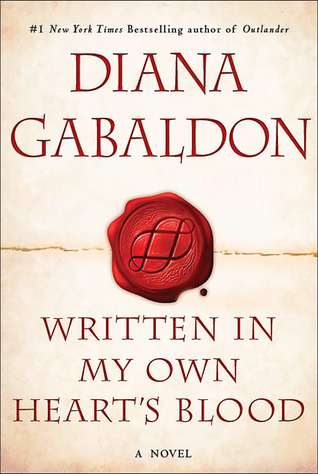 Genre:
Historical Fiction
Summary
(from Goodreads):
WRITTEN IN MY OWN HEART'S BLOOD is the eighth novel in the world-famous OUTLANDER series. In June of 1778, the world turns upside-down. The British army withdraws from Philadelphia, George Washington prepares to move from Valley Forge in pursuit, and Jamie Fraser comes back from the dead to discover that his best friend has married Jamie's wife. The ninth Earl of Ellesmere discovers to his horror that he is in fact the illegitimate son of the newly-resurrected Jamie Fraser (a rebel _and_ a Scottish criminal!) and Jamie's nephew Ian Murray discovers that his new-found cousin has an eye for Ian's Quaker betrothed.

Meanwhile, Claire Fraser deals with an asthmatic duke, Benedict Arnold, and the fear that one of her husbands may have murdered the other. And in the 20th century, Jamie and Claire's daughter Brianna is thinking that things are probably easier in the 18th century: her son has been kidnapped, her husband has disappeared into the past, and she's facing a vicious criminal with nothing but a stapler in her hand. Fortunately, her daughter has a miniature cricket bat and her mother's pragmatism.

The best of historical fiction with a Moebius twist, WRITTEN IN MY OWN HEART'S BLOOD weaves the fibers of a family's life through the tapestry of historical drama.
Review:
Wow, this book was such a disappointment. Although
The Fiery Cross
is still my least favorite in the Outlander series, this book came in a close second. After having read, and mostly enjoyed, the first seven books in the series, I am invested in the characters and the plot, and so I had to keep reading to find out what happened. I will definitely read the next book in the series (in five more years) for the same reason, but I'm glad I didn't spend the money to buy this book.
So, what didn't I like about it? Well, instead of writing from only Claire and Jaime's perspectives, Gabaldon wrote from the perspectives of Claire, Jaime, Roger, Bree, Jem, John Grey, William, Hal, Rachel, Ian and I'm sure there were a few more that I missed. That's just WAY too many for one novel. She also spent a lot of time focusing on historical figures like Washington, Benedict Arnold, Nathanael Greene, and quite a few others. Sure, it's interesting that Claire and Jaime met these characters, but it made the story drag on and get confusing.
And I understand that Gabaldon does a lot of research into the history of her stories, but I could have done without all the details around the British and Continental troop movements, meetings, and camp setups prior to the battle of Monmouth. I wanted to follow Jaime and Claire's story, not hear about all those historical details. I think the 10 days surrounding the battle took up the first 500 pages of the novel. It was seriously way too long and should have been much more stringently edited.
The last 100 pages or so were much more interesting, and had character development and pacing more like the rest of the novels in the series. I also appreciated that this book had an actual ending, not a "to be continued" ending like the prior book.
Rating:
3 stars